STREET LIVES: California carpenter kicks back on the streets of Portland
Dean Murphy has family in California but doesn't have a way to contact them, or the will
Dean Murphy lives outside, favoring a rain poncho, silver emergency blankets and a sleeping bag at bedtime. He had a tent but one day when he walked from West Burnside to Blanchet House for lunch, his tent and its contents were stolen.
On a recent afternoon, he parked his shopping cart, which holds his cans, bedding and some food, and sat on a scrap of dirt at 15th Avenue and Northwest Marshall Street to smoke some opioids in powder form from aluminum foil. The small silver rectangles looked to have lost some luster, from creasing and scorch marks, but he was adamant that the gold coating was crystallized drug, which would melt again and smoke easily up his metal tooter.
"I did have a couple tarps but they were destroyed. The emergency blankets have saved my life several times," Murphy, 33, explained.
Murphy is a carpenter by trade, and says he picks up odd jobs but has always liked to wander.
He's from Imperial Valley, California, and has been in Portland for six months. "This is my first year, I'm only on the streets because I am in Oregon. If I was in Washington or in California, or several other states, I'd be with my family on my family's property."
How it started
He says he was in Tacoma, Washington, visiting his little brother. "He got in trouble and blah, blah, long story short, I ended up paying this dude to give me a ride from Tacoma to San Diego to my family's property." They stopped just off I-5 at a McDonald's in Oregon and the driver asked him to fly a sign, meaning hold up carboard begging for money.
"So I said, OK, fine, whatever. I've never actually flown a sign … well, I've twirled one for an actual job. After five minutes I looked around, couldn't find him. McDonald's drive through, couldn't find him."
The driver had taken off with all Murphy's possessions. He says he had $5,000-worth of camping gear, plus his backpack with phone and ID, debit card and even his hearing aids, which were charging in the truck cab.
"I paid him in cash 500 bucks, his truck was a gas guzzler, a 1968 Ford F250 or something like that. It was a big beast that got, like, seven miles to the gallon. So, I gave him a little extra, because at the time I didn't mind, I was working three jobs and I had plenty of money."
Murphy has looked in the newspaper for work — carpentry, construction, or building maintenance — and has his feelers out with some friends on the street. He prefers not to camp with others, having been robbed.
His aunt and her new husband have a string of condos on the beach in San Diego, one of which is his to use when he's there, so long as there are no timeshare people in it.
"Probably if I had a chance to head to California, I'd probably go there."
Collecting cans and bottles for the dime deposits is tough because Safeway and Plaid Pantry only take 24 cans at a time. He doesn't have an email or phone to sign up for the automated BottleDrop green bag system.
How it's going
There are other benefits, though. Murphy finds things in the trash, often drugs. Often people throw them away, he thinks by accident. Or sometimes the people who clean up the camps toss everything away, including people's possessions and their drugs, and Murphy has snagged them then.
He knows some people spend all their money on opioids like fentanyl but says he doesn't need it that badly.
"Honestly, I guess I'm just lucky. I don't spend money on drugs."
How does he like Oregon's drug decriminalization?
"I think it's awesome. Honestly. I think it should be like that everywhere." He knows he couldn't sit smoking off foil by the side of the road in San Diego. "There you get a ticket or something."
Sleeping out was terrible during the snow. He took advantage of the warming center at the Oregon Convention Center and was amazed to see what looked like 500 homeless people there. He has stayed in congregate shelters but does not like them, preferring the freedom of the street.
Which also has its downside. Murphy suddenly cocked his head and grimaced. He said his ear was weeping, ringing and hurting all at once.
"I got jumped outside the Plaid Pantry (on Southwest Jefferson Street)." Four dudes saw him smoking blues off foil and asked to do a trade. "They gave me the date rape drug, ketamine, special K, it's a horse tranquilizer. I took one little, tiny bump and I was down instantly."
When Murphy came to, two men were holding him up and two more stripping him of his possessions. Under his rain poncho he wears a tool belt with accessories, a back brace and one knee pad. This was a week ago. They squirted some liquid in his ear and it hasn't been the same since.
"Like literally they purposely squirted something in my ear. And the ambulance showed up, with a fire truck and the cops. They asked if I wanted to file charges. I don't know who they were. It literally happened within seconds. Literally seconds."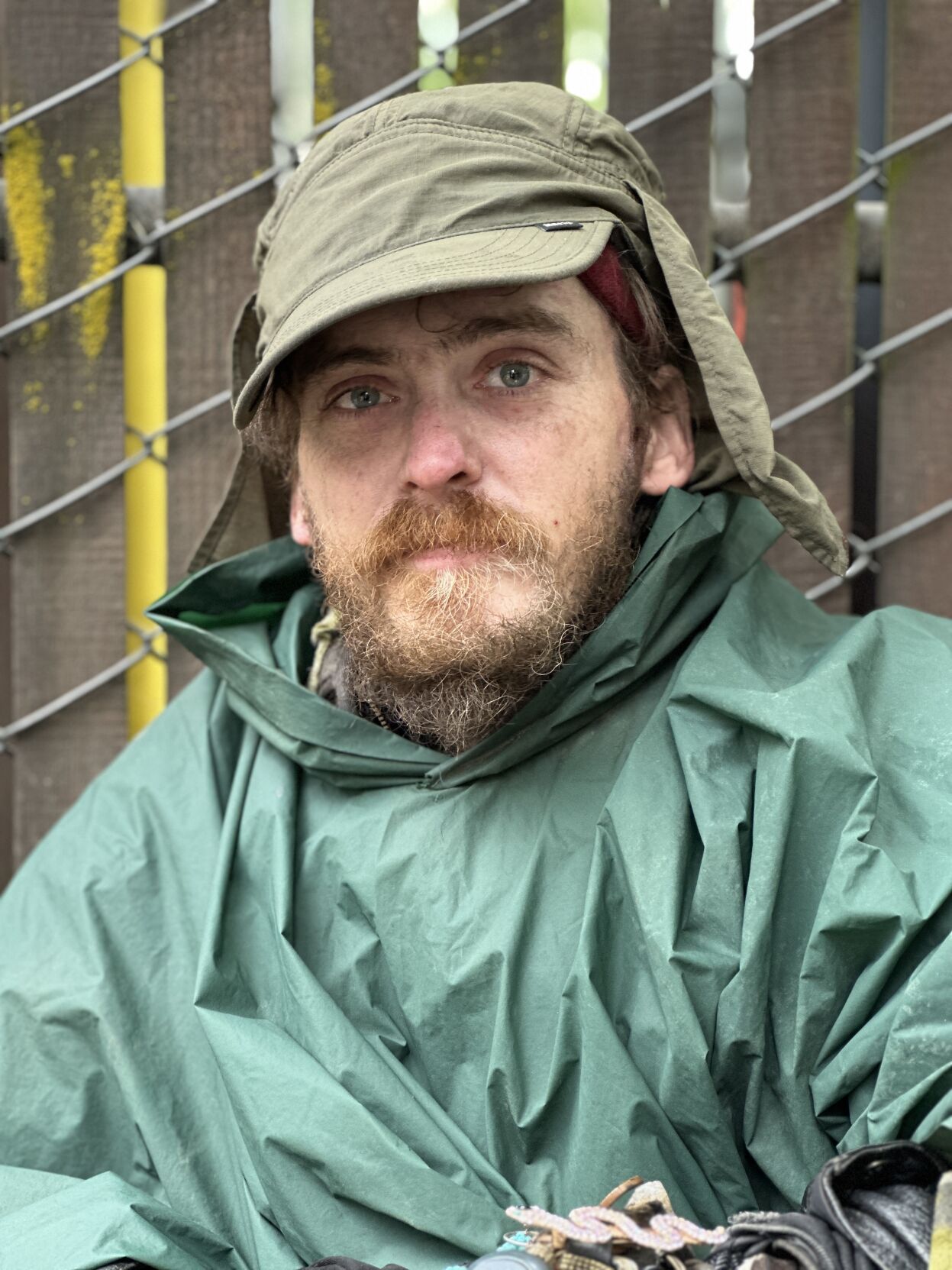 Improvised shower
Murphy has used the Multnomah County Behavioral Health Center to do laundry, make coffee and take a shower. But since it reopened, it has gone to appointment-only. "I don't have a phone. That's like damn near impossible because what homeless person has a phone to be able to set up an appointment? It's not logical." He doesn't want to wait outside for an hour or two to be verified, either.
He takes a shower by taking a winebox or coffee box and filling the silver bladder with warm water. He heats his water by burning hand sanitizer in a coffee can, which has become the clean fuel of the sidewalk tent world.
"You fill up those and you hold them above you, open and it drains on you. That's amazing."
Solutions
Murphy says he thinks work programs might get people off the street. "Teach them basic carpentry skills, to where they build the little tiny huts. That's job training."
He estimates half the homeless people who say they can't work actually could but accepts that many are incapable. "Bad upbringing, bad childhood. But then, like anger issues, bad disabilities. Several of them that I know, they've been in gang fights, they just got out of the pen (prison). Because of being in there, they're basically institutionalized, right out of high school. I would say there's always hope for everyone. And there's a place for everyone, no matter what."
Joseph Gallivan is a news and features writer based in Portland, Ore.