Mobile library opens in Hazelwood
Finding a place to park the $464,000 vehicle pushed back the opening date
Five branches of the Multnomah County Library are closed, and most of those aren't expected to reopen for at least a year. The $387 million bond to renovate and build library locations and add amenities aims to improve access throughout the county, but in the short term, the closures mean less access to books, Wi-Fi and other library services.
The mobile library, a 38-foot RV, opened at 122nd and Glisan in mid-April.
"We're trying to keep services going in the neighborhoods where we close branches, like Midland and Holgate. This is one of the ways that we're doing that," said Emily Yeaton, an administrator at Midland who now runs the mobile library while Midland is closed for renovation.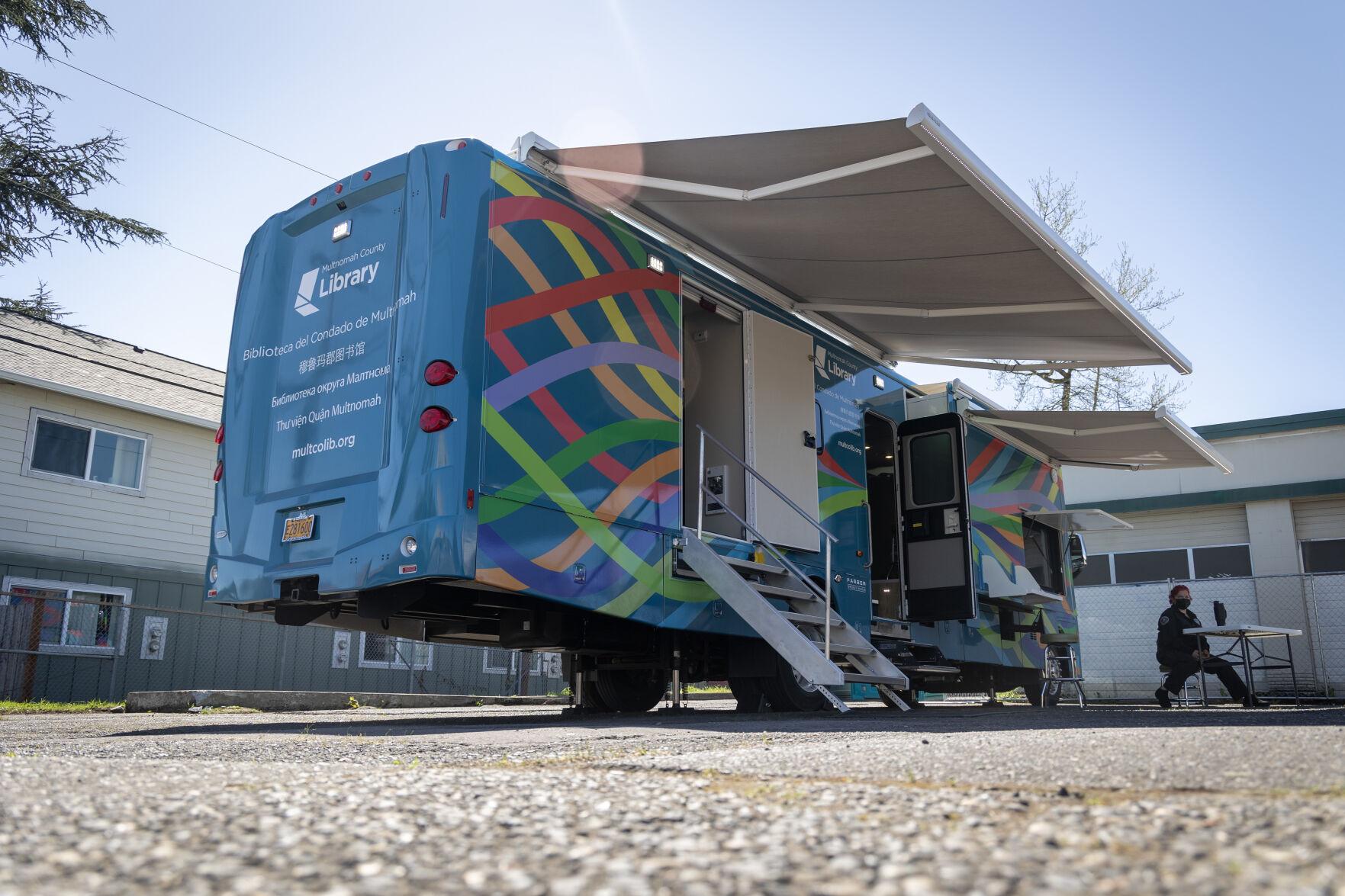 The RV brings Wi-Fi, computer access, a printer and fax machine; "a lot of the stuff that people come into our branches for on a regular basis," Yeaton said.
The Multnomah County Library estimates it will provide 3.2 million free computer and Wi-Fi sessions in the current fiscal year, which ends in June.
The mobile library also includes a small collection of books, with materials in the languages carried at Midland and Holgate: English, Spanish, Russian, Chinese and Vietnamese.
The RV's soft launch started on April 15.
"It's different than being in a branch where you can kind of give somebody whatever they're looking for. But it is nice to have a little bit of everything in here, so everybody who has wanted to leave with something has gotten something they want," Yeaton said.
Yeaton said visits started off slow, because the library wasn't pushing much promotion while staff adjusted to the new workspace and rhythm.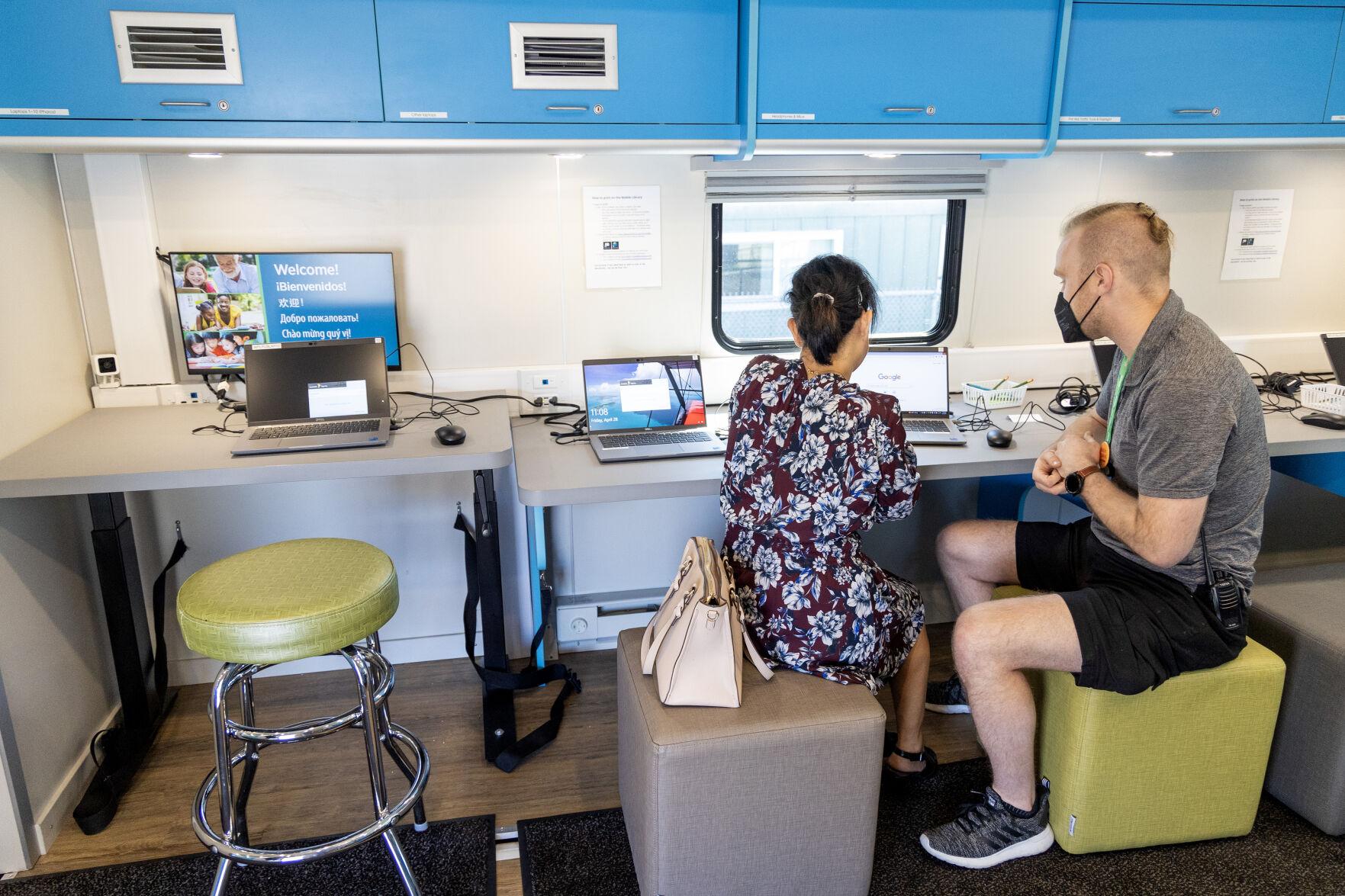 "But we've had lots of people coming in and going 'what is this?' which is fun," Yeaton said. "When we get kids in here, they want to check something out, they want to sign up for a library card, that kind of thing. Adults, it's been more computer access, charging their devices, printing things."
"We have been helping with whatever people ask for, same way we do in our buildings," Yeaton added.
The Midland Library, less than a mile south of the mobile library's current location, had 138,000 visits in the 2021-22 fiscal year, making it the third most popular of the 19 branches. Holgate, Albina and North Portland, which have also since closed for at least a year, had a combined 182,000 visits.
Administrators want to add more locations for the mobile library, but finding a spot that can accommodate the RV and visitors has been a challenge.
"We've been asking around, we've been trying to make connections and find other places to keep it. But for now, this is what we had access to, so this is what we're using," Yeaton said.
The $464,000 mobile library was unveiled last July, but defects that required repair and challenges finding a place to park pushed back the opening date, Willamette Week reported.
"It is a 38-foot vehicle with a big turning radius and slide-outs that increase the width of the vehicle by 4 feet when it is fully expanded. Other considerations have included restroom access, cost and availability," Paty Rincon, a library spokesperson, explained. "We are hopeful that there will be additional locations in the future."
At least in the near future, the mobile library will be open at 12338 N.E. Glisan St., Portland, on Tuesday through Saturday, from 11 a.m. to 4 p.m.
Anna Del Savio is a reporter based in Portland, Ore.